Check out the article for some sneak peeks of this year's elaborate Christmas displays around the city.
Wondering if a drive around Burlington is worth it during this hectic time of year? After spending some time appreciating the "WOW" factor some Burlington residents put into their holiday displays, my family's vote is a resounding YES!
Full disclosure: We did not do the whole suggested route in one evening. Instead we divided the route into South Burlington and North Burlington and coordinated the drives with things we were already doing in the area. That said, you could pack some snacks and hot cocoa and head out for a night of Christmas Lights Mania, the kids would love that for sure.
Neighbourhood: The Orchard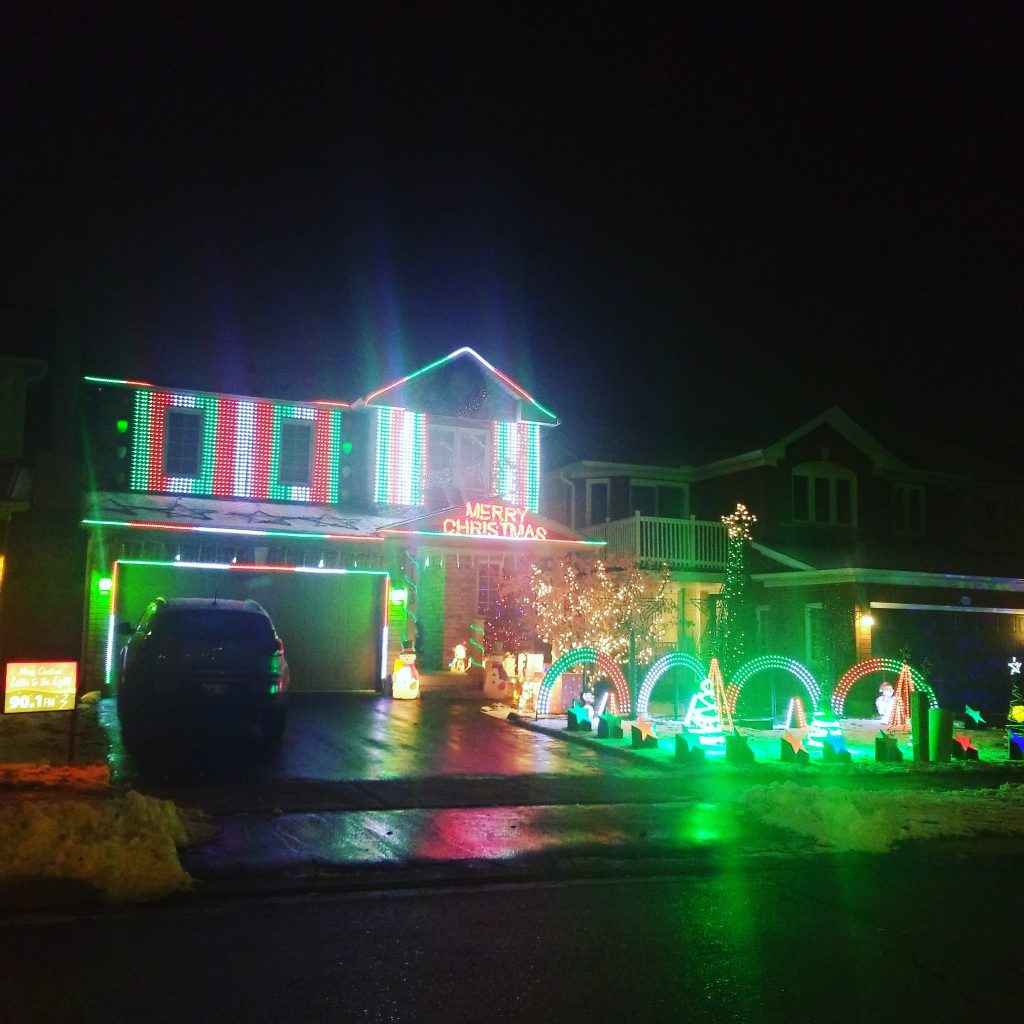 Let me start by saying that we were initially pretty skeptical that we would find houses as dramatically decorated as the ones we go out of our way to see almost nightly in the month of December. With lots of families in the neighbourhood, there are lots of Christmas lights to be found! Here in The Orchard, Blue Spruce Avenue has two spectacular examples of over-the-top Christmas décor. 5183 Blue Spruce Avenue is known as the "Christmas House" in our neighbourhood and this homeowner really goes all out to share a stunning display. All the lights on this house flash to the beat of the songs playing on the home's very own Christmas music station! My kids always insist on watching the lights change for two or three songs to see what the lights are going to do.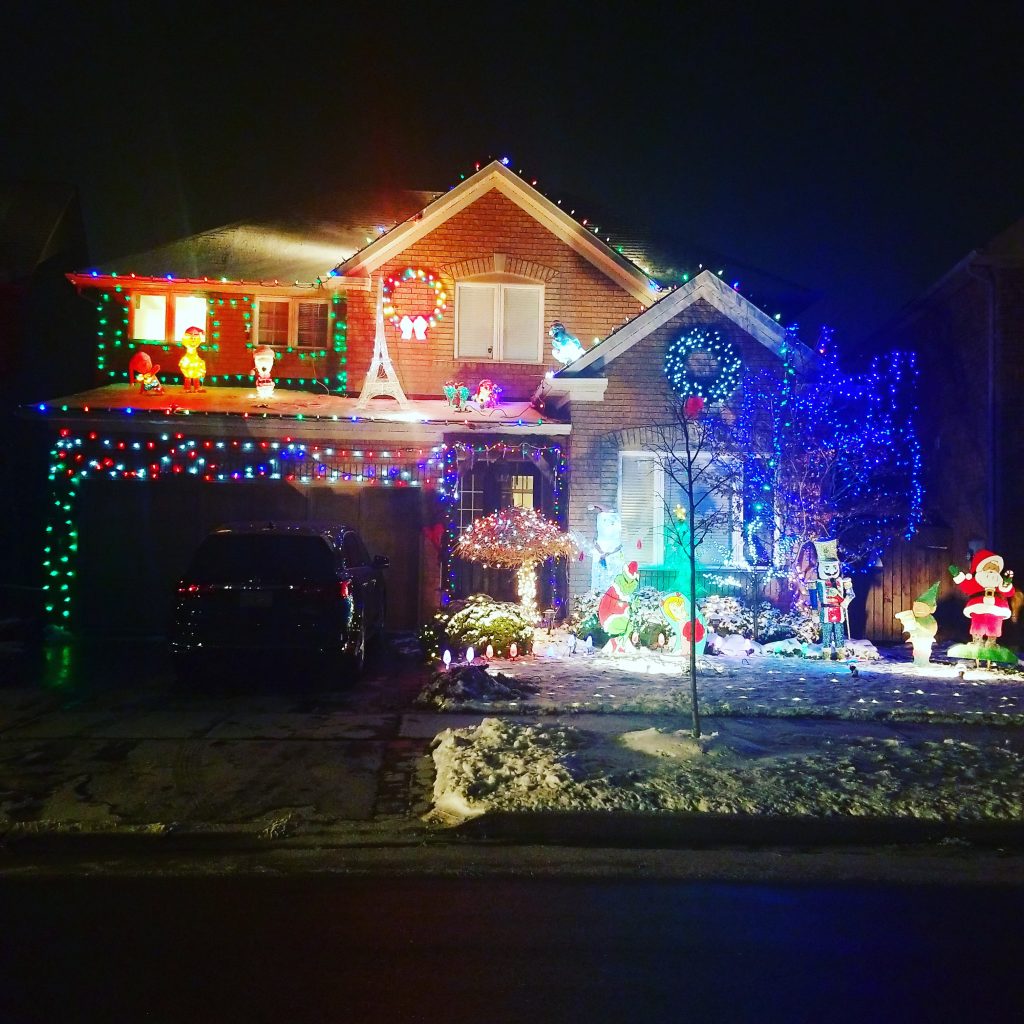 Now if you're like me, and a bit more partial to all things absurd, then 5134 Blue Spruce Avenue is a house you will enjoy for sure. No where else in Burlington has the Eiffel Tower and Big Bird on one roof together! My kids think this one looks more like Christmas burst out of a pinata and landed all over the house. I tend to agree and would like to one day reach this level of joyful excess on my own front lawn (currently we have four decorations and counting).
But what did we find when we ventured out of The Orchard? We've been missing out on a whole lot of cool houses in the six years we've lived here!
Neighbourhood: Pinedale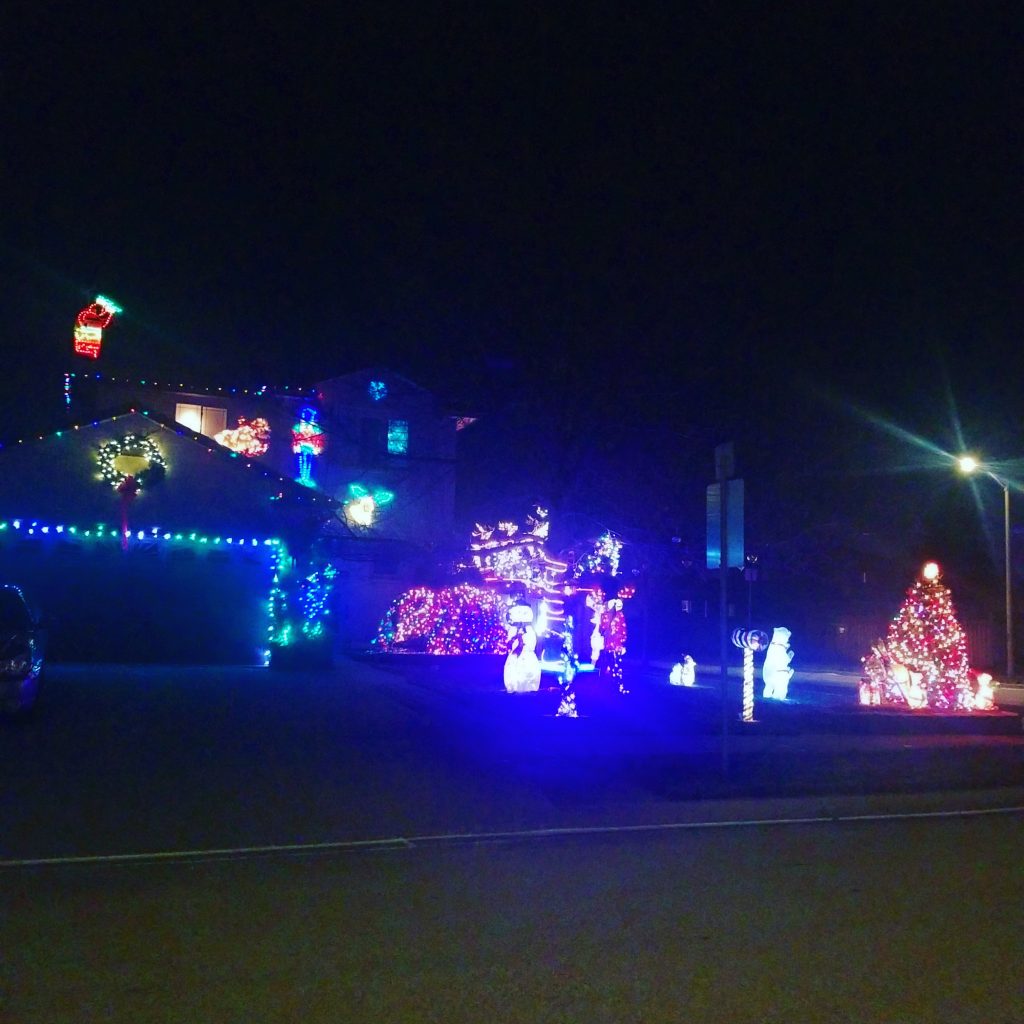 Another thing we found out quite quickly was that we didn't need to be asking "which house is it?" as we drove down the streets. With these houses, you'll just know them when you see them! In the Pinedale neighbourhood is 566 Deerhurst Drive. The kids got a kick out of Santa being stuck in the chimney and the lights with motion.
Neighbourhood: Elizabeth Gardens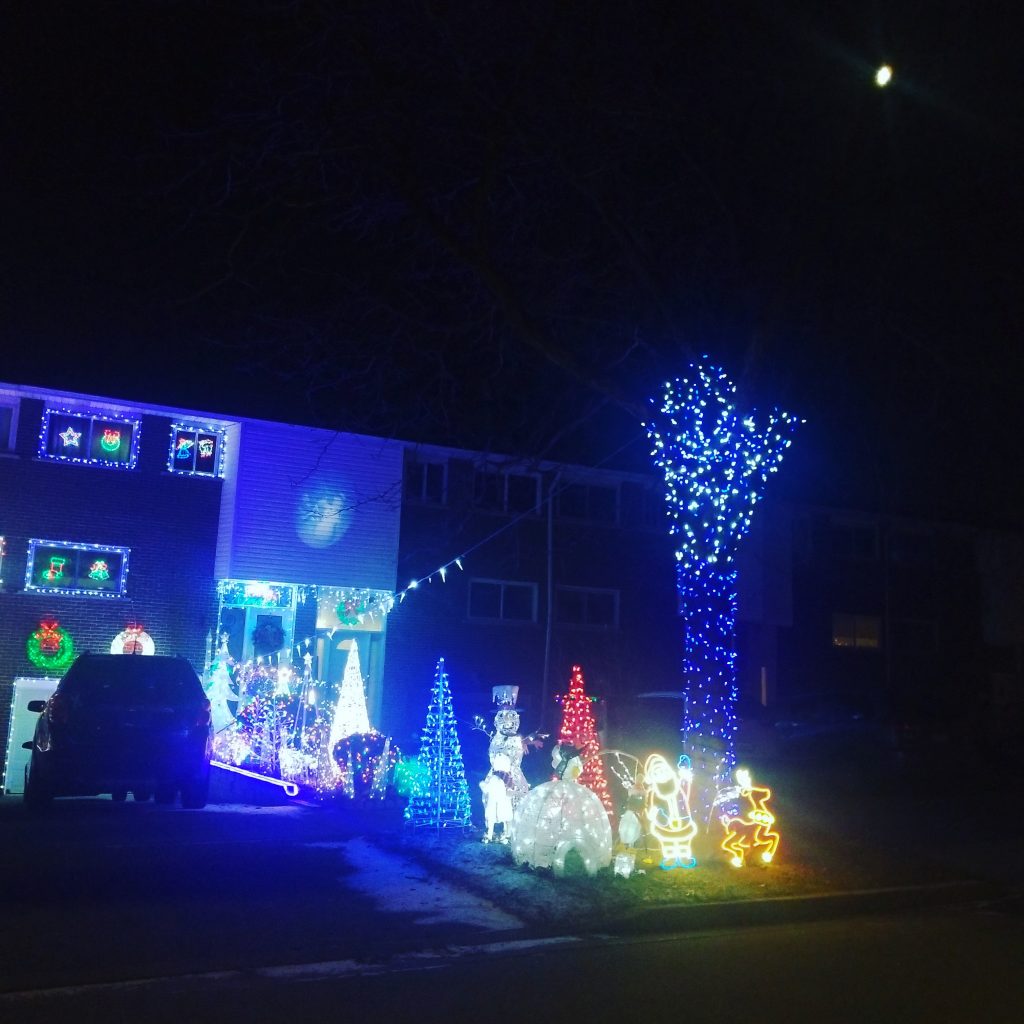 Elizabeth Gardens really has some great houses as well. 5563 Schueller Crescent shows just how much holiday cheer you can fit into any size of front yard. This house is easy to see while driving along New St. Each front window, the porch and the whole yard is covered in coloured lights.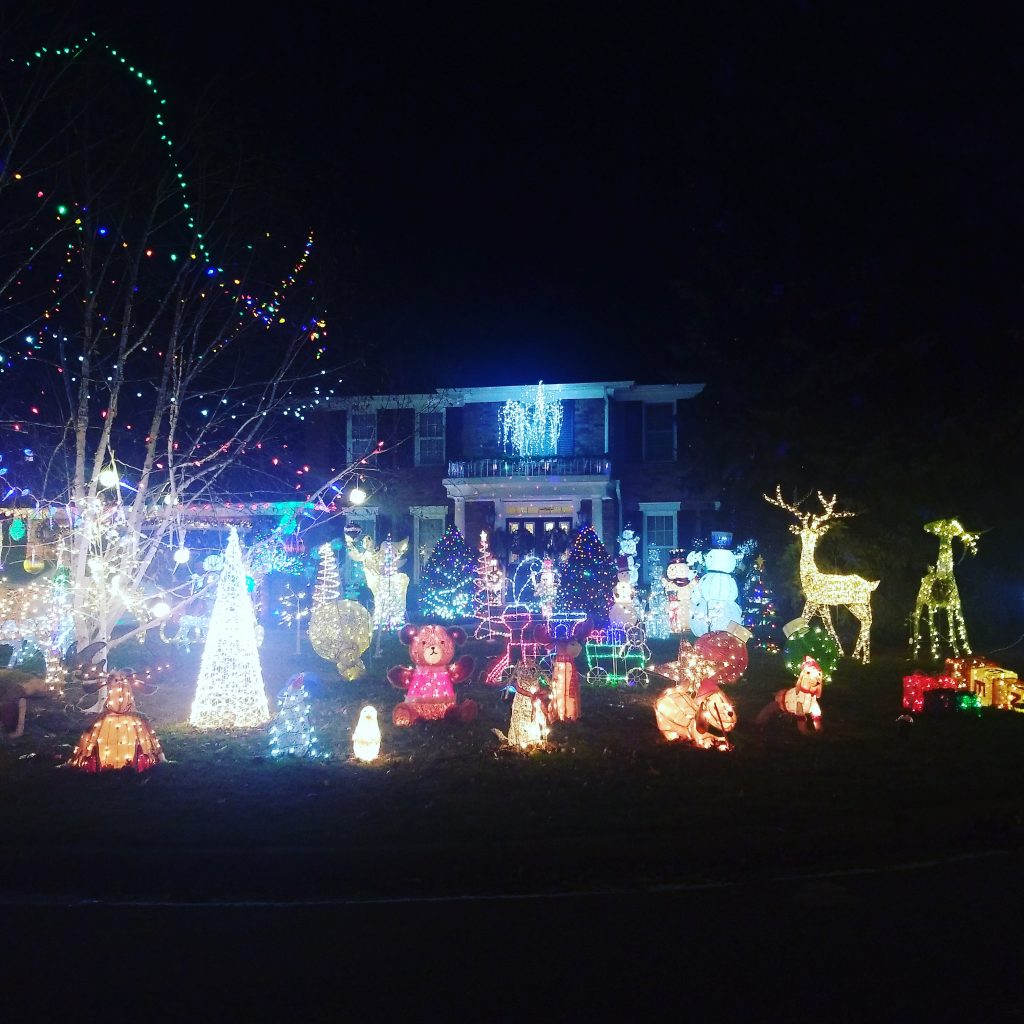 This house on Colonial Crescent was by far and away my husband's favourite house. Those deer are at least 8 feet tall! He loved them so much he got out of the car to get the best picture he could to send back to his parents in Australia.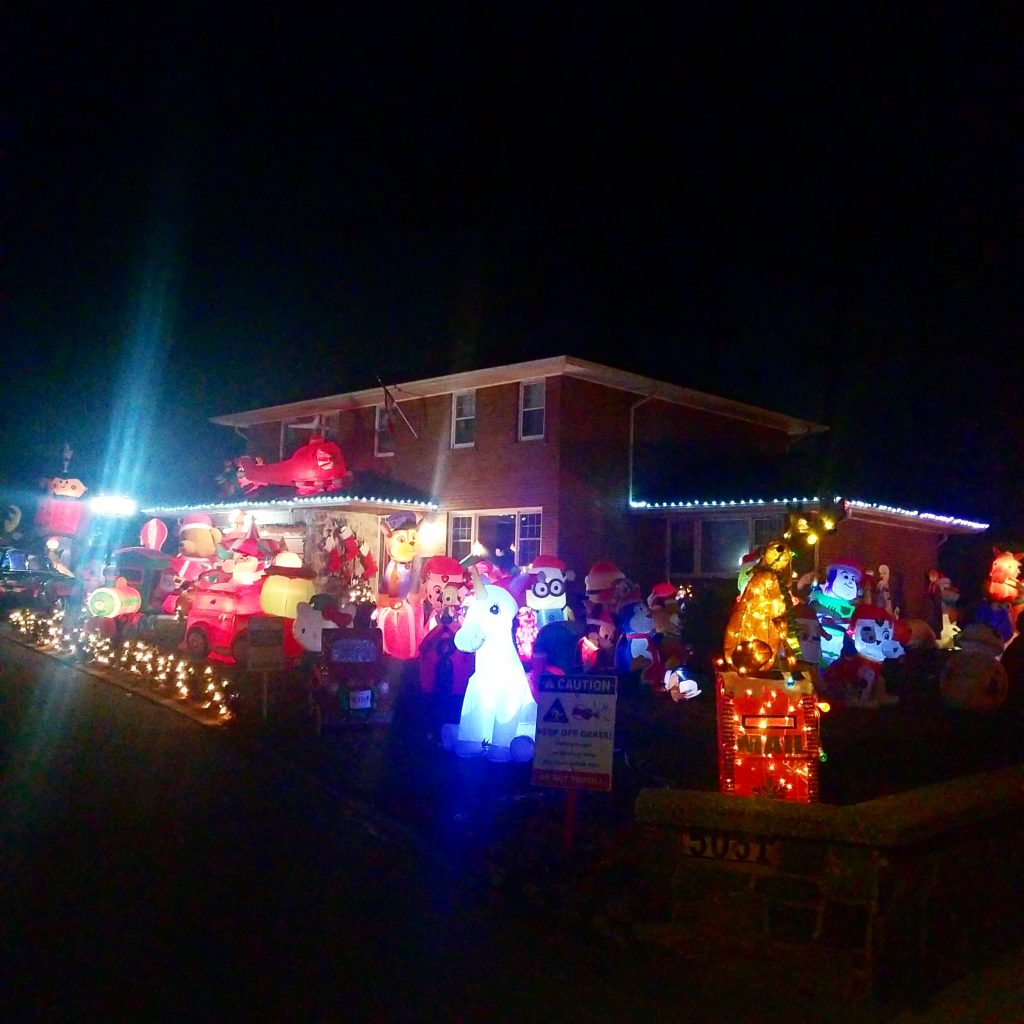 By this point in our journey, I have begun to feel a bit of a connoisseur of Christmas lights. Unlike my kids, who know everything about everything before they even see it, I am starting to recognize there are types of Christmas light enthusiasts. 5031 Spruce Avenue is going to appeal to a certain audience. That audience in our car was me – the one who admires the absurd. I pulled up across the street from this house and literally laughed out loud at the sheer number of inflatable creatures of all shapes and sizes on the yard! They have filled every spec of grass with these larger than life characters and the result is simply brilliant. Unless you are like my husband, who said, "It's pretty hard to top those 8 foot deer from the last house."
Neighbourhood: Shoreacres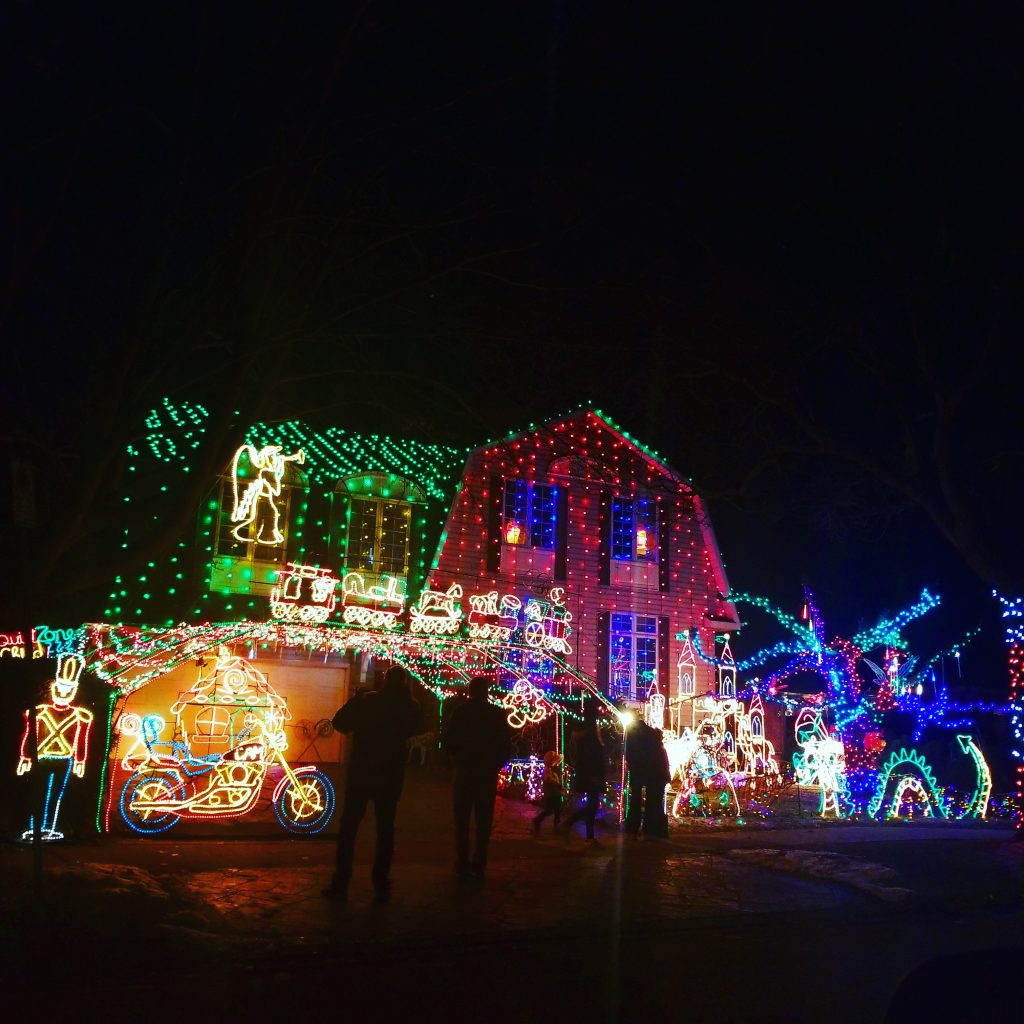 Further along Spruce in the Shoreacres neighbourhood is a very popular house that many families in Burlington refer to when they talk about Christmas houses. This was our first year seeing it and it certainly impressed us all. You can see from the picture how popular it is as there wasn't a moment we were there that didn't have a family stopping to watch the lights.
Neighbourhood: Brant Hills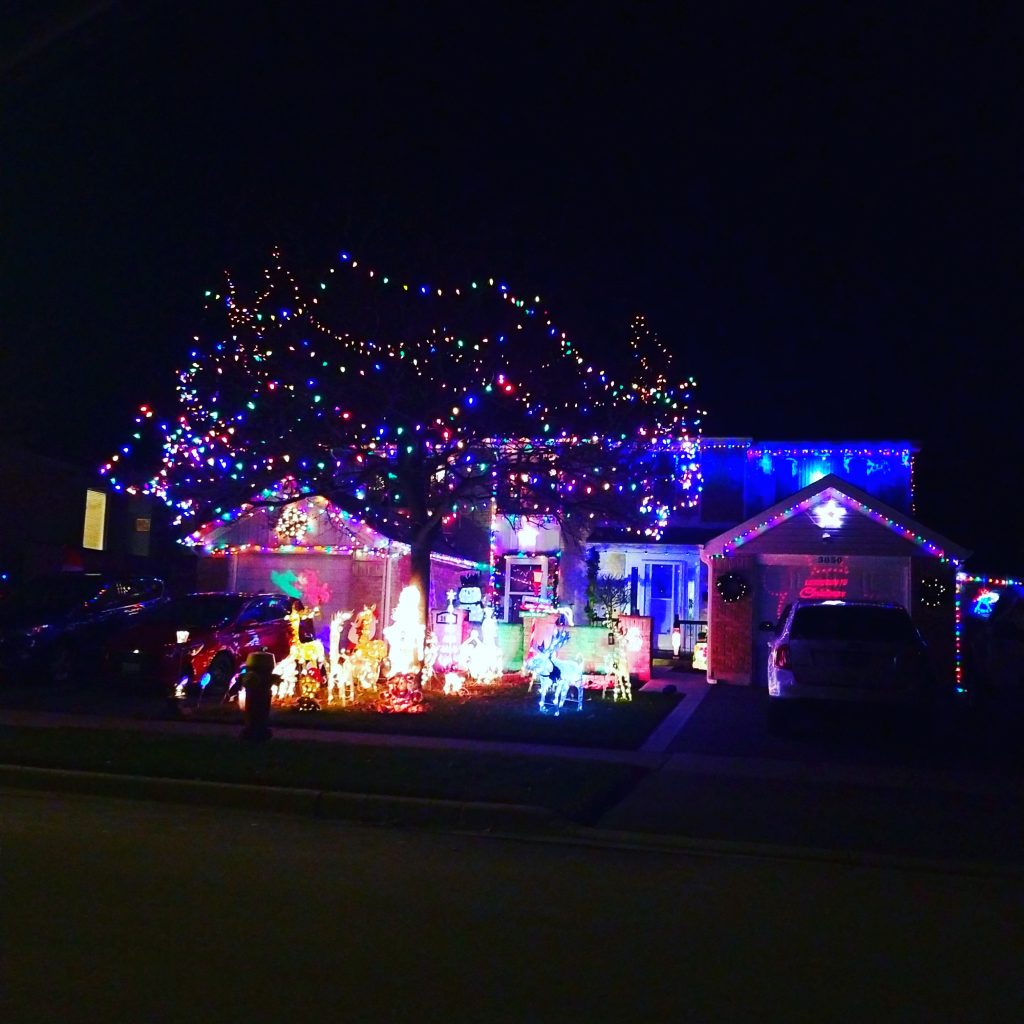 The Brant Hills neighbourhood overall has many houses with Christmas lights. The first house we visited was 3052 Autumn Hill Crescent. Lots of different lights here and it actually looks like the neighbours worked together on the shared yard to create the display.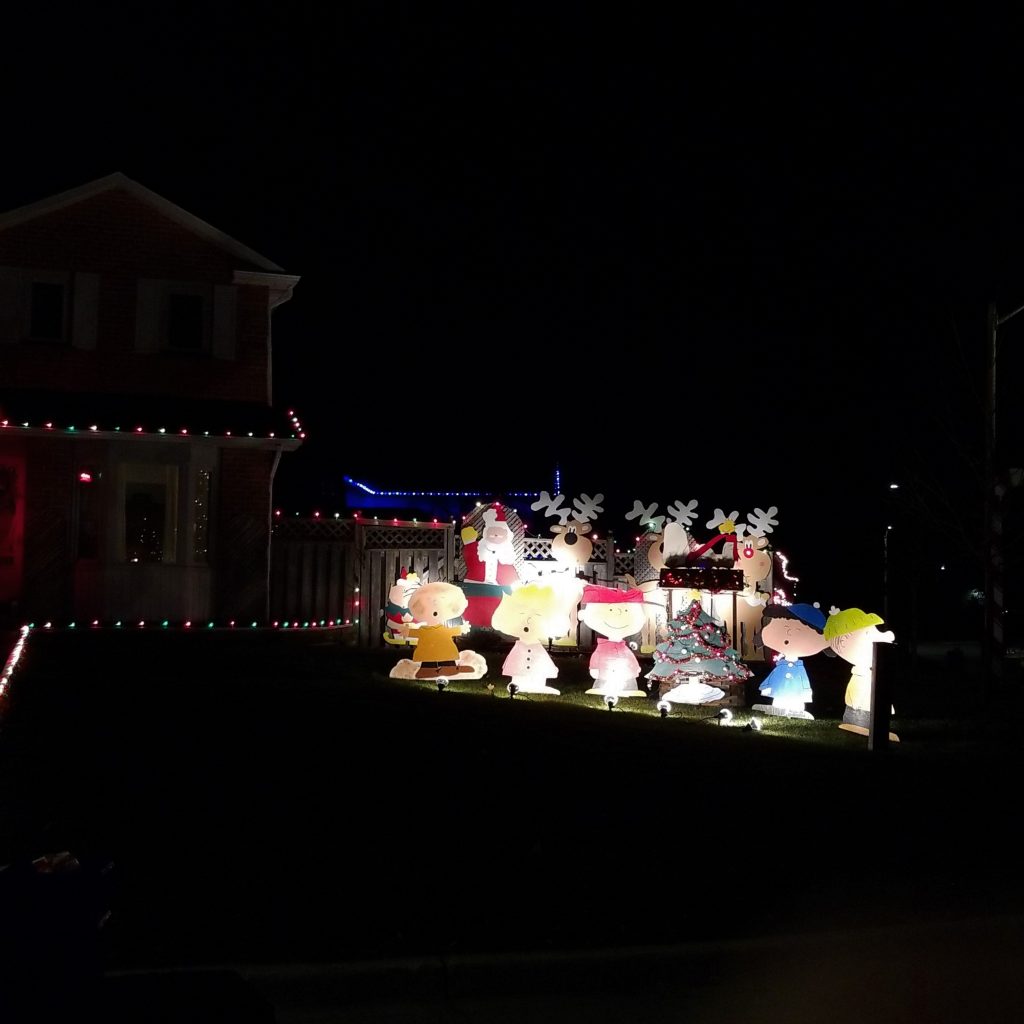 If you are looking for Santa and the Peanuts Gang, you'll find them larger than life at 2392 Arnold Court. The surprise with this house comes when you round the corner on the lot and see what they've created along their fence!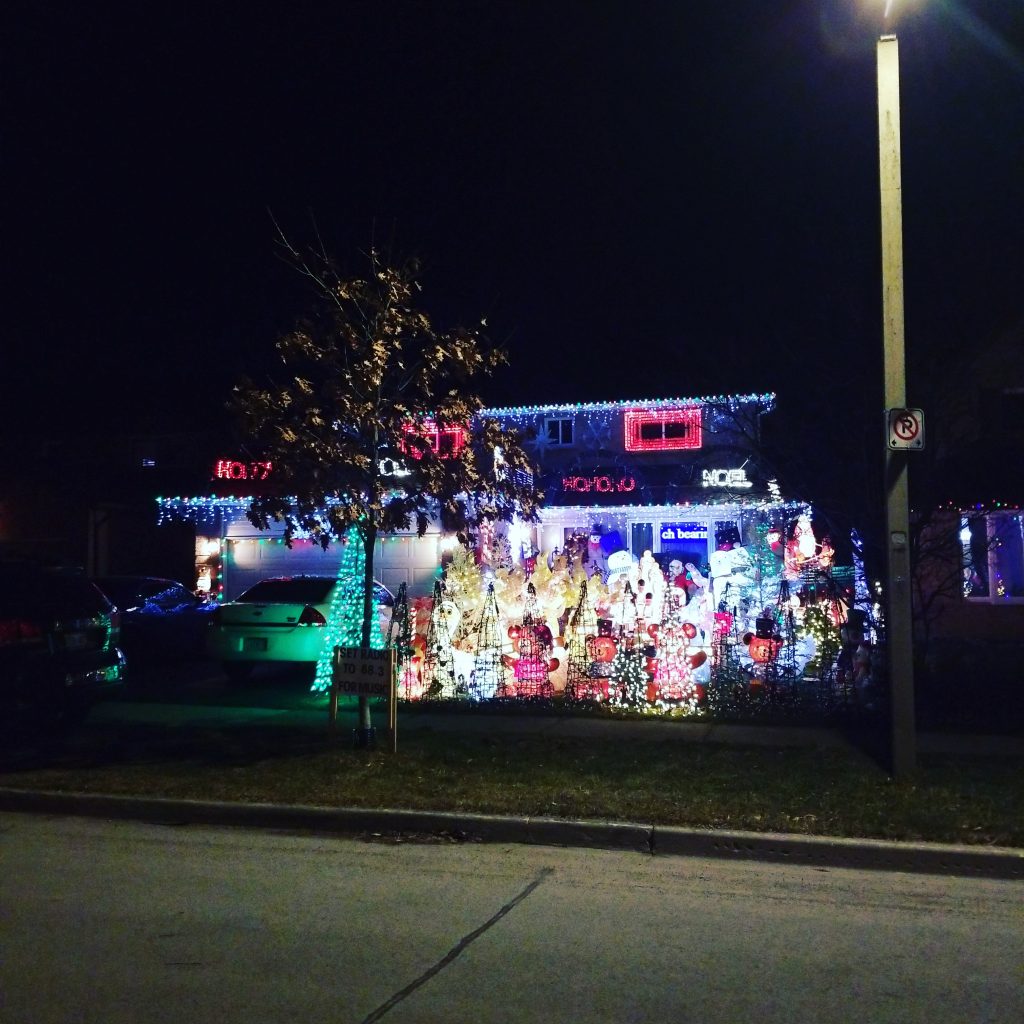 Our last stop was 2176 Devlin Drive. This house lights up the night for a very specific purpose. It's worth your time to pause not only to take in the many lawn ornaments clustered together but also to have a read of the scrolling message that runs across the roof. A very heartfelt moment in a hectic season.
Some final words from each member of the family when venturing out to across the city for lights:
"The best time to see Christine lights is at night!" – from the 4 year old
"We should have eaten dinner before going on this drive" – the 7 year old
"Put your hazard lights on when you pull over. You're a hazard!" – the husband (notably the same person who got out of the car to stand in the middle of the road in the dark to take photos!)
Wishing everyone a safe and Merry Christmas and a Happy 2020!
-Kim Bingle
Sales Representative
Your Burlington Neighbourhoods Team
*My thanks for the addresses on this route to Julianne Ward Lawrence, a local Burlington mom who was so kind to share her compiled Google Maps route and I am sharing with her permission. For a few more houses, check out her full map at: https://www.google.com/maps/@43.3609013,-79.8591904,12z