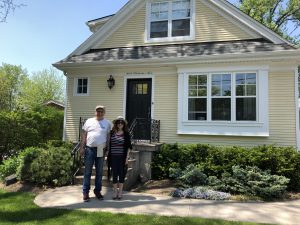 Why did you decide to move to Burlington?
We moved to Burlington for a few reasons: house prices in T.O. are too high and we liked the
idea of being walking distance to Lake Ontario. Our daughter and her family live here so
we're close to our grandson, it's a much easier lifestyle and a slower pace.
What were your worries or
questions

about moving to Burlington?

We have no friends here, so would we feel isolated? We both perform in community theatre
and would we be accepted by the local community theatre group? (We have been warmly
accepted). Would we find all the medical services we require in Burlington? (We have.) Would
we feel too far from Toronto to visit? (It's not that far.)
What, if anything, has been a surprise about living here?
When I go for walks, everyone says hello! There are excellent bike paths here, right through
the centre of town and on the lake shore. Some excellent restaurants here. The Burlington
Performing Arts Centre has a wide variety of concerts, shows and other events. I love the
idea that most things are 5 to 10 minutes away: Canadian Tire, my doctor, my dentist, the
hospital, the 2 malls, etc.
What is your favourite place in Burlington?
We love the lake side and what it has to offer…great walking paths, bike paths, eateries, and
a beautiful view. Downtown Burlington has that small town charm about it.
Any advice for people considering moving here?
Before you move, check out the different neighbourhoods. There are so many and each one
has its own distinct charm. Use the Go Train. It's a comfortable and relaxing way to get into
the city.