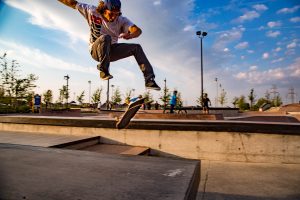 Why did you decide to move to Burlington?
We wanted to live in a quiet cozy city, with an active community. When it came time to pick a city commuting distance to Toronto, Burlington was at the top of the list.

What were your worries or questions about moving to Burlington?
As a mom, my biggest worry was the schools. Our experience so far has been great. My kids are clearly happier in Burlington. We are impressed with the programs and activities offered by the school, as well as the interesting opportunities for teens to volunteer.
We just wanted a nice neighbourhood with an active community. Through Facebook groups I started to get recommendations, which helped ease my nerves. Halloween was a great opportunity to get to know more about the community and enjoy a nice time.
We weren't sure about the commute to Toronto. The GO so far has been wonderful and convenient with a 50 min commute time to Union Station.

What, if anything, has been a surprise about living here?
Since it has been only four months we are still exploring. The only thing that has surprised us so far was a city program called 'No Socks for Evan'. It is an opportunity for teens to meet throughout the week and spend time together doing fun activities. It is great because a program created by teens, for teens.
What is your favourite place in Burlington?
We really like to walk by the lake and have dinner on Brant street. Also I always love seeing how busy the park is, which is adjacent to our house. I like to see kids having fun, playing sports and enjoying their time. I would say this is what I really love most about Burlington. Where I live, I feel the area is so alive with kids and teens.
Any advice for people considering moving here?
It is a lovely community. It takes a bit of time to get oriented and find services like a family doctor, for example, but I think this would be the case anywhere.