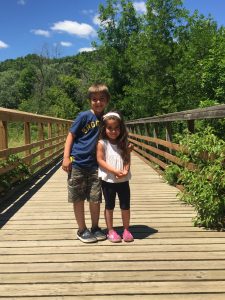 Why did you decide to move to Burlington?
The decision to move to Burlington sort of snuck up on us. We both grew up in Mississauga and when we got married, we settled in Oakville. We loved Oakville and Halton region, as well. The services and amenities appealed to us, and I work for HCDSB and wanted to stay in our region to ensure my kids had the opportunity to attend the schools in our board (which I feel are superior…excuse the obvious bias). In our (2 year) search for the "perfect" home for our growing family, we knew we wanted to live in a mature neighbourhood, with larger properties. Within these parameters, we seemed to be priced out of Oakville. Somehow our searches always brought us to Burlington.
The first home we went to see was actually on the street we ended up buying on, 2 years later. The day we saw this initial house, we got to chatting with a few of the neighbours who had so many great things to say about the street, the area and Burlington as a whole. In the end, our decision to move here was based on the factors listed above, we were able to buy within our price range, a home that was on a mature and quiet street, near amenities and transportation and the lake, with a yard/property size that we both were happy with.
What were your worries or questions about moving to Burlington? 
Our main concern was commuting. Gary works in Mississauga and Vaughan so moving further west definitely contributed to a longer commute for him. For myself, I had grown accustomed to working at a school that was less than 2 km from my home, which had obvious conveniences that I was a little hesitant to give up.
What, if anything, has been a surprise about living here? 
One thing that has definitely taken me by surprise is the small town feel I get in this larger sized city. I have often remarked to others how friendly everyone is in Burlington. When I'm out running errands people are so warm and friendly. I find myself chatting with people at the park, and even as I bag my groceries at the store. People seem to go out of their way to smile and say hello and laugh about some silly shared observation.
That warm and friendly feeling also follows me right to my front door. We settled on a lovely street where everyone looks out for one another, greets each other with a wave and a smile and are just warm and welcoming. Within hours of moving into our new home, a neighbour even stopped by with a welcoming letter for our kids, and some home baked cookies. It didn't take long for Burlington to feel like home for our family.
What is your favourite place in Burlington?
That's a tough one, we are still discovering all that this city has to offer. Do I have to pick one  place? This summer my family really enjoyed Burlington beach. It seems like this best kept secret; shallow water for the kids to splash, warm sand, cute little park and rentals, even a nice little ice cream hut to stop for a treat. We also really enjoyed hiking Cherry Hill Gate by RBG and feeding the chipmunks and chickadees from our hands.

Any advice for people considering moving here? 
My advice is to chat with the neighbours and explore the area! As mentioned above, the first house we visited in our two year search was on the street that we eventually settled on and the best thing we did was chat with the folks that were out tending to their lawns and washing their cars. That really gave us a sense of the neighbourhood and eventually led to us settling here. Whenever our family viewed homes,  we always made sure to take the scenic route there. We drove the surrounding streets, stopped to play at the local parks, popped in at the amenities nearby. When you move, you're not only buying the home, you're buying into the area. You really want to get a good vibe when you're out and about, and you want to be able to see yourself in that space.