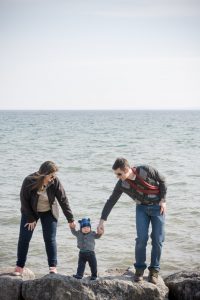 Why did you consider moving to Burlington?

We were looking for a town with a sense of community to start our family. We wanted something small enough to feel like we could support small local businesses, but big enough that we had easy access to all our amenities (groceries, restaurants, stores). We loved the mature trees, large lots, and unique homes in the neighbourhood we chose. We loved that Burlington was so close to amazing hikes and waterfalls too. We are an easy GO train ride to our friends in Toronto, a quick drive to the awesome food scene in Hamilton, and to our favourite wineries in Niagara on the Lake! But it was really the views of the water that sealed the deal for us to make the move to Burlington!
What were your concerns and questions about moving to Burlington?
As with moving to any new city, we were worried about making new friends and finding our place within the community. Our fears were quieted as soon as we saw how popular the downtown core was – with families and people roaming about all the time. We love attending the many festivals at Spencer Smith Park, often with our two kids. And there have been so many wonderful library and community programs for the kids to take part in.
What's your favourite place in Burlington?
Sioux Lookout Park! We have a view of the water right from our front door. Being able to see the sunrises and sunsets over the water, and the waves rolling in every morning on our way to work, makes us feel so happy. It's like combining the best of home and cottage life into one amazing spot. (And for those who aren't as lucky to see the water from their front steps, there are ample lookouts with parking spots that are always filled with onlookers needing that sense of calm and beauty). Our kids love walking and riding their bikes along the path, climbing on the boulders, and picnicking on the benches. We have even caught a few holiday firework shows in this spot – on a clear night, you can see little bursts from Hamilton, Stoney Creek, and Niagara on the Lake all at once!

Any advice for people considering making the move to Burlington now?

Be sure to come out to a festival to see what Burlington people are all about, or walk/ride along the boardwalk (all the way to Hamilton for a hot dog at Hutchings on the boardwalk if you like!). Most of our family and friends just don't understand why we moved here until they visit. You just have to be here to see how great it is.