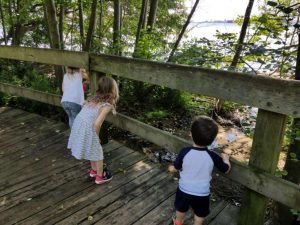 Why did you decide to move to Burlington?
We were outgrowing our condo in Toronto and definitely needed/wanted more space with an expanding family.  Having taken a job in the Niagara Region, we thought Burlington seemed like the perfect commuter city while still being relatively close to Toronto and our friends.  It didn't feel like a suburb, but a small city with it's own downtown culture.  We also have family and friends in Burlington so we were familiar with the area.
What were your worries or questions about moving to Burlington?
We were worried about leaving the great restaurants and food, accessibility to everything at our doorstop, and the walking culture behind in Toronto.
We were also worried about moving into an established neighbourhood and a lack of young children; however, it seems like everyone has the same idea as us and the growing families are all moving in!
What has been a surprise about living here?
There are strollers and babies all over the neighbourhood! Burlington has a handful of great restaurants – but the best is having Hamilton a few minutes away with it's amazing and varied restaurants. Burlington always has an event going on for families on the weekends; you really never have to leave.
What is your favourite place in Burlington?
All of the hiking trails, the waterfront, and Centro Garden downtown with the summer outdoor market.
Any advice for people moving here?
Take the leap!  Burlington is an amazing city for families and has everything Toronto has to offer, just on a smaller scale.