People in the GTA have somewhat of a hilariously distorted view of Ontario's geography. I've met people who have called Barrie "Northern Ontario." I wish I was joking.
When you say the words "Cottage Country" around most GTAers it will conjure up images of two areas: Muskoka, or maybe Kawartha.
Maybe it's because I grew up in (actual) Northern Ontario, but I tend to get slightly irritated when I hear that. Here's the thing, Ontario is so much bigger than you think! And cottage country is far more accessible and diverse than you think.
I am not trying to sell you a cottage in Northern Ontario! That's not my area. I have no stake in this. I would, however, love you to have far more money in your bank account and still have amazing summer weekends.
So, here are a few reasons why you should broaden your view of cottage country.
Prices Go South as You Drive North
Muskoka is 2(ish) hours north of the GTA and made up of areas like Gravenhurst, Bracebridge, Port Carling, Lake Rosseau, Huntsville, among others.
There are really no official boundaries, but it's generally accepted that Huntsville is the most Northern point along Highway 11. But an amazing thing happens when you drive north of Huntsville: Shit gets a lot more affordable really quickly!
We're talking, drive-45-minutes-and-you-save-$450,000 levels of savings.
In 2019, the average price of a waterfront home in Muskoka was $700,000, or $784,000 for South Muskoka. But if you stay on Highway 11 for just a little bit you enter the Parry Sound district, which has an average price of $500,000.
And what are you sacrificing for that money? Not a damned thing. You're simply removing that ultra-expensive Muskoka label.
Some of the other considerably more affordable (yet still very drivable) cottage countries include:

| | |
| --- | --- |
| Bruce Peninsula | $458,000 |
| Haliburton Highlands | $500,000 |
| Honey Harbour | $435,000 |
| Kawartha Lakes | $465,000 |
| East Kawarthas | $525,000 |
| Land O' Lakes | $350,000 |
| Parry Sound | $500,000 |
| Rideau Lake | $457,000 |
| Southwestern Ontario | $539,375 |
| Sudbury | $450,000 |

And these are only a few of your options.
Now, of course, those are 2019's average prices. The COVID crisis has increased the demand for cottages everywhere in Ontario. In Muskoka alone, the average price of a waterfront home in Muskoka hit an absolutely gut-punching $1,200,000 in July.
Each respective market has seen its own fluctuations, so it's hard to give you a ballpark price elsewhere. But one thing is certain: The Muskoka Vs. Everywhere Else price gap will always be massive.

Getting Much More for Much Less

As soon as you start exploring the various cottage countries outside of Muskoka, you start to see that you can spend less and get more… everything. More frontage, more property, more square footage, and more bedrooms.
You don't have to make any of the concessions you would have to make if you were trying to save money by buying in an expensive area. You don't have to concede things like:
The Size

You might want a 3-4 bedroom cottage, but settle for a 2 bedroom. Now you're conceding that the kids can sleep in the living room, or you'll build a bunkie for guests. That is, if you have enough room on the smaller-sized property.
Trust me when I say that a cottage that is too small can go from cozy to claustrophobic in a hurry.
I will just say this: If you really want to see the difference between you and your guests' respective parenting styles, stay in an undersized cottage.
The Beach/ Swim Area
You may also tell yourself that a cheaper big market cottage is "Ok" even though the beach area isn't very swimmable. It's either too mucky or weedy for the kids to play in.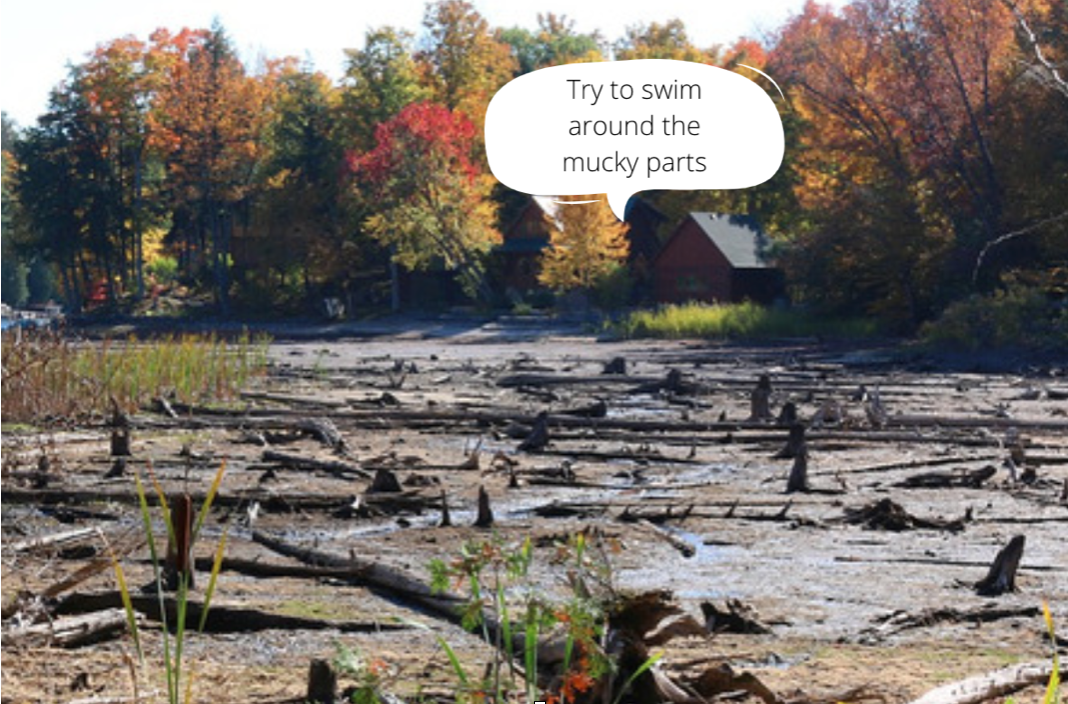 You say "That's Ok. We still have water views. We'll just get a big floaty and put it out deep enough to swim."
That seems like a reasonable compromise, but it's actually a huge one. Because there is nothing (repeat, nothing) like the experience of your kids being able to run into the water from the land, or dive right off the dock.
The Privacy

One thing you may also find is that many of the more "affordable" parts of Muskoka are a bit more congested. There is little separation between you and your neighbours.
It's hard to feel like you're "getting away" if your cottage neighbours are actually closer than your city neighbours.
Any Real Estate Questions?
If you have any questions about real estate, or want to know how to work a cottage into your house buying/selling strategy, we would love to talk!
Click here to contact us at any time.